Bed warmer-cuddly toy
The BUNNY and the MOUSE are microwavable stuffed animals with removable cherry stone hot/cold packs for children from 1 to 7 years

In which cases heatable toys can help? If your toddler is giving up the crib or moving out of the family bed or moving to their room to sleep.
Change in the environment can create additional stress, and staying alone can cause fear. Heatable toy helps to build a bedtime routine gradually preparing a child for sleep.  It is not only a cuddly toy but also a source of physical warmth that plays a psychological effect - a strong association with mom's body heat and warm arms, creating a sense of security and emotional stability. Your little one will nap like a champ while hugging this cute and warm cuddly toy.
It is also a great way to warm up a bed. An alternative to hot water bottles.
How it works?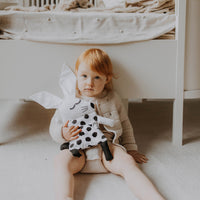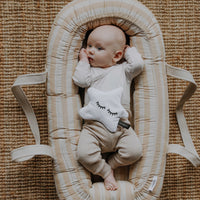 Anti-colic heating pad
LITTLE STAR, the CLOUD, and the WHALE are heating pads with
grape seed filling to soothe a colicky and fussy baby from birth up to 8 months. The heating pad is a great gift for new parents.
For a baby: Proven by research by the scientists of the University College London that heat relieves abdominal pain, such as colic as it generates a rush of blood in the desired location that results in a reduction of muscle spasms in a baby's tummy. A heating pad is a natural remedy for colicky babies.
Often it can be jarring and startling to a baby when they go from their mother's warm arms to being placed into a cold crib. With a heating
pad, you can pre-warm the crib before putting the baby down to sleep.
How can a breastfeeding mom use the pad: A temporary cold (a pad placed in the freezer for a bit) on the breast between breastfeeding will reduce pain and discomfort.
But the little heat (pad heated in a microwave, oven, etc.) in the areola area will stimulate and encourage better milk flow just before breastfeeding.
Find out more
Let customers speak for us

SIA "ULECE" noslēgts līgums ar LIAA par inkubācijas atbalsta saņemšanu ERAF projektā Nr. 3.1.6/16/l/001 "Reģionālie biznesa inkubatori un Radošo industriju inkubators".
SIA "ULECE" ir noslēdzis 02.11.2022. līgumu Nr. SKV-L-2022/495 ar LIAA par atbalsta saņemšanu pasākuma "Starptautiskās konkurētspējas veicināšana" ietvaros, ko līdzfinansē Eiropas Reģionālās attīstības fonds.